**Warning--Some Pictures May Be Very LARGE!**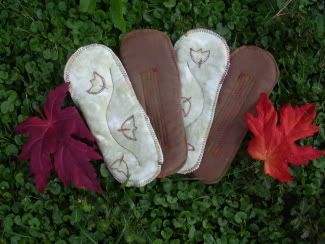 Falling Leaves Cloth Pad Set with 2 medium-heavy pads and 2 liners.
Seasonal Favorites Wool Wash Bar Set(inclueds Pumpkin Pie, Warm Vanilla Pear Tart, Juicy Green Apple, and Peach Cobbler scents).
The Best of Natural Madison Soap Collection(includes three of our most popular scents Black Chai Tea, Southern Style Sweet Tea, and Carpe Diem).
That's all for now! I have to finish up a custom prefold order and get back to work on everything else. I'm making a bath crayon set, and Madison gets to test drive it for me. Hehe. I also have to clean the house...lot's of stuff to do.
I've been busy making things for two custom orders, two stockings that are back to back, and two collaberative projects! Here is a quick peek at what I've been doing for the grand opening for Madurodam Village Market.